How can we help you? Search our FAQs below
---
1. How are the roses delivered?
The roses are delivered in 2 bulk bunches of 25 stems each and packed in a cardboard decorative box delivered to your door by a third-party carrier.
---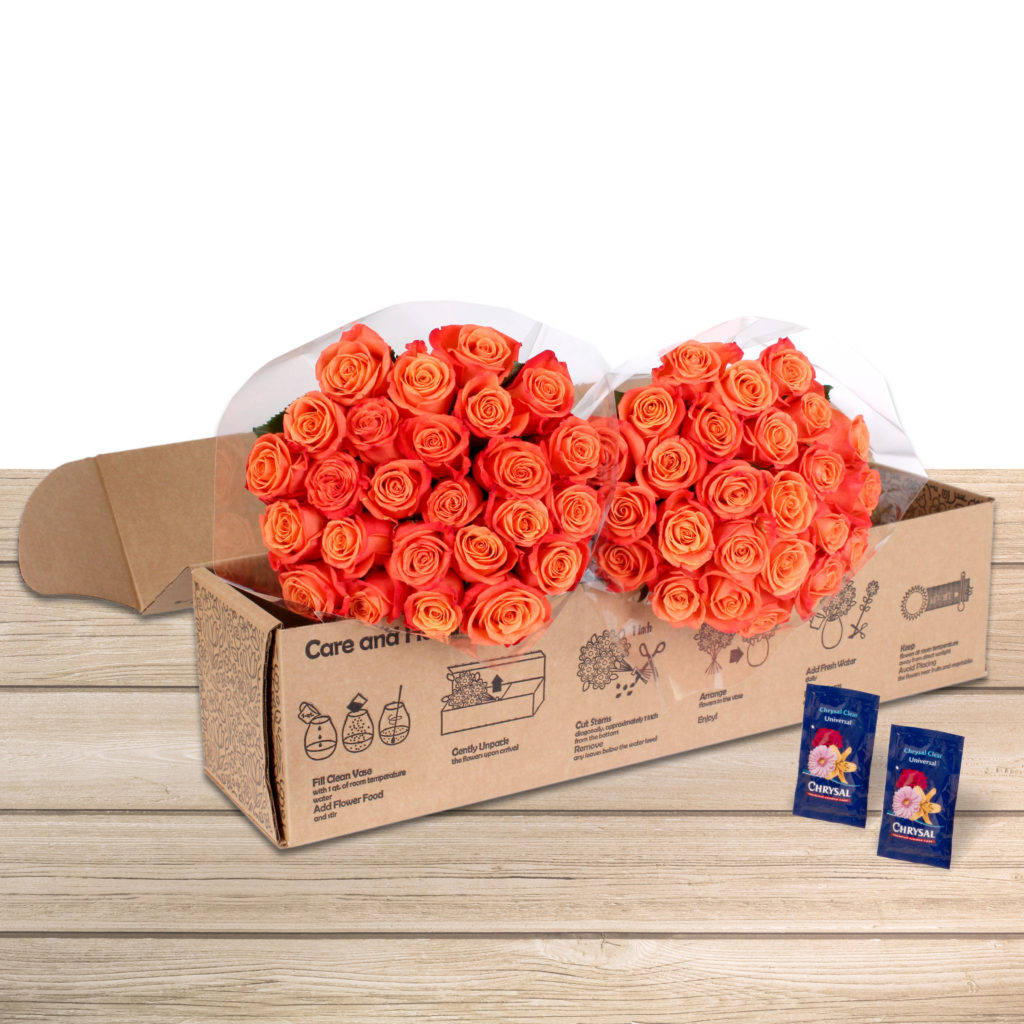 ---
2. Who delivers the flowers?
The flowers are delivered via a third party small package carrier like UPS or Fed Ex.
---
3. Could you provide me a tracking number for my order?
A tracking number for your order will be emailed to your e-mail address on file when your order ships.
---
4. I need my flowers for tomorrow, when do I have to place the order?
If you need an overnight delivery you must place the order before 11:00 AM, Pacific Standard Time. Please remember that we do not have delivery options on Saturday, Sunday, and Monday. Therefore, if you place the order on Thursday after 11:00 AM, Pacific Standard Time, your order will be delivered the following Tuesday.
---
5. What is the difference between Overnight and Preferred Delivery Date (PAD)?
If you select Overnight delivery your flowers will ship on the night the order is placed, provided you placed the order between Tuesday and Thursday, and will arrive the following day (Tuesday – Friday).
For example, if you place your order on Monday, the flowers will deliver on Tuesday. However, if you place the order on Thursday after 11:00 AM the flowers will not ship until the following Tuesday. Any order placed between Friday and Monday will ship the following Tuesday.
If you select Preferred Arrival Date (PAD) the only options available will be delivery days of Tuesday through Friday. Unfortunately, we do not have delivery options for Saturday, Sunday, and Monday.
---
6. Why is part of the preferred arrival calendar grayed out?
Calendar dates are grayed out when delivery is not available.  Delivery is not available on Saturday, Sunday, and Monday. Therefore, if you place the order on Thursday after 11:00 AM, Pacific Standard Time, your order will be delivered the following Tuesday.  Most holiday delivery is not available due to small parcel carrier closures.
---
7. Is Saturday delivery Available?
Unfortunately, Saturday, Sunday and Monday delivery is not available at this time.
---
8. Could I change the address/delivery date of my order?
We can change the address and delivery date within 48 hours of when the order was placed. Changes are not available for overnight delivery.
---
9. I placed my order yesterday and it has not arrived yet.
Any order received after 11:00 AM, Pacific Standard Time, will be delivered the next available delivery day (Tuesday-Friday).
---
10. Could I pick up the flowers in a store?
Unfortunately, this option is currently unavailable.
---
11. I need the flowers for my wedding, could you recommend which is the best day to receive them?
The flowers need time to bloom. We recommend 2-3 days prior to the event.
---
12. Can I cancel my order?
For cancelations or rescheduling, please contact us within 48 hours of placing your order. Cancelations are not permitted for overnight orders.
---
13. I no longer want the flowers. Can I cancel my order arriving today?
Unfortunately, orders already processed cannot be canceled or changed.
---
14. I could not add a message, could you add a message for me?
Yes, we'd be happy to help.  We can add a gift message on all non-overnight orders.  Exceptions may apply during holiday shipments due to high order volumes.
---
15. Could you send me 60 stems?
Unfortunately, configurations other than 50 stems are not currently available.
---
16. Could you mix the colors?
Customizable options are unavailable.
---
17. It seems like I only received 25 flowers?
The roses come in 2 layers. Please take both bunches of roses and turn them around where the stems are facing you and count them from the bottom. The count should be 50 stems.
---
18. How can I remove the plastic wrap?
Simply take scissors or sheers, cut the tape and carefully remove plastic wrap.
---
19. How should I care for my flowers?
Please prepare a vase with water • Add Flower Food • Unpack your flowers • Cut them 1 inch from the bottom, or to the desired length • Remove any leaves below the flower level • Arrange flowers in the vase • Add fresh water daily • Re-cut stems every 2 or 3 days • Enjoy!
---
20. How long are the stems of the roses?
19.7 inches minimum.
---
21. How long should my flowers last after they arrive?
Vase life depends on the type of flower stem.  The vase life for roses generally is  5-7 days if care and handling instructions are followed.  Most other flowers will last 5-10 days.  Please always follow the care and handling instructions for best results.
---
22. Are the flowers fully bloomed when they arrive?
Flowers are shipped, and will arrive, in bud stage. The flower stems will need to be put in water before they can bloom. Hydration is important to the health of your flowers.  It may take a couple of days for your stems to properly hydrate and bloom.  Flowers pictured on the Costco.com site are taken after three days in water.
---
23. Do my 50 stem roses come with a vase?
Vases are not included.